Coaching Process
Coaching Process

---
My Coaching Methods
I don't have a 'proprietary method.' I know every person is unique so I customize our program for each person and situation. I do use state-of- the-art insight tools, like The Hartman Value Profile, to reduce the time spent in assessing needs so we can move quickly into goal setting and action planning.
As your coach, I provide you the tools, practices, structures and support you need to see yourself as you really are. As your coach, I both challenge and support you while you learn and try new practices of thinking, acting and relating, discarding those that get in your way and strengthening those which work well for you.
You learn to recognize when you are on top of your game and when you're not. You will learn to recognize both your blind spots and your power sources with greater clarity. You learn when your thinking and decision making patterns are sources of flow and inspiration and when they are sources of interference blocking your best performance. You begin to tap into your inner resources and strengthen all areas of your leadership game: the physical, emotional, spiritual and mental.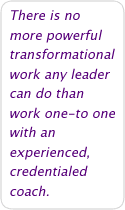 As your coach, I will work with you to assess your strengths and challenge you to be your best, while providing a safe place to play without fear of judgment.
I will tell you things that others can't or won't tell you, listening always with respect and the goal of helping you make forward progress. I will talk things through with you, serving as a sounding board, trusted advisor and your own personal creativity and growth consultant.
Typically, we meet two to four times a month, over the phone or in person, usually over a period of three to six months depending upon your specific needs. I am available to you between sessions for brief phone calls and e-mail updates, so you are supported when you need it and how you need it.
Coaching is increasingly a benefit companies recommend and offer to their most talented and promising employees and managers as they invest in them for positions of greater responsibility and future value within the organization. It is a two-way relationship focused on the interests and priorities of the leader being coached. There is no more powerful transformational work any leader can do than work one -to -one with an experienced, professional coach.